Old Salem 2002
On June 15, 2002 several of the Swiss Believers group visited Old Salem,
North Carolina. Salem was a community founded in 1753 by the Moravians,
some of whom were of Swiss ancestry. The history of Salem is kept alive in
the old town through a series of restored buildings which form a fascinating
living history museum.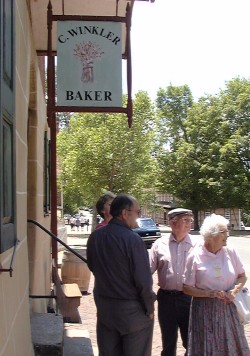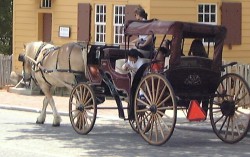 The Winkler Bakery bakes bread and other specialties daily in a wood-fired oven.
Herr Winkler was Swiss. That's Hilda, Hans, Ted and Marieanne watching the carriage.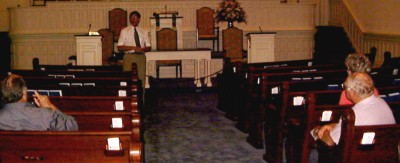 The Moravian Home Church has been a faithful witness to the grace of God through
many generations. Each day the church is open to visitors, greeted by a church
member whose answers to questions are generously seasoned with the love of Christ.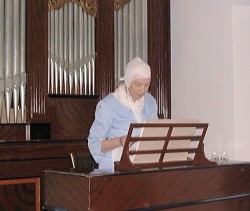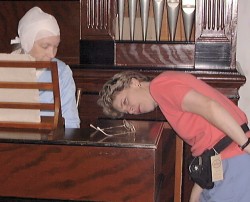 In Old Salem the young men from age 14 until marriage lived together in the
Single Brothers house. They had daily devotions in the Saal. Music and singing
were an integral part of daily life. Hilda, an organist, was interested in the old organ.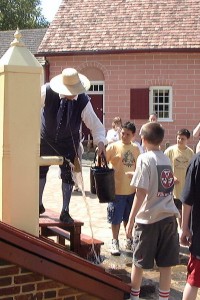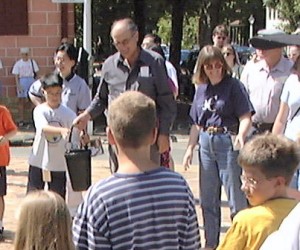 Fire Drill!!! Bucket brigades were the means of getting water from the cistern to the fire pump.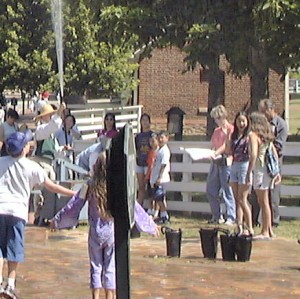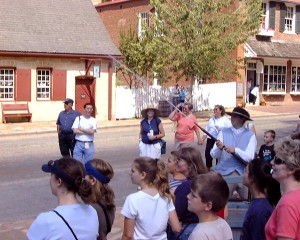 The hand-powered pump could put out a hefty squirt.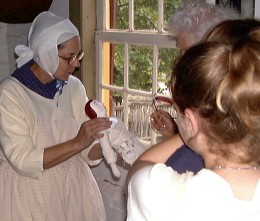 Old Salem was a well-developed community,
with people dedicated to each of the important
trades. Dollmaking was one of them.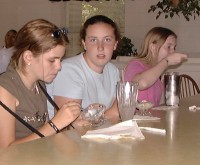 Aimée, Lindsey, and Jennifer really enjoyed the
Mayberry ice cream parlor after visiting all the museums.
For more information on the Swiss Believers in the Carolinas, contact:
Bruno Keller <becky-bruno_keller@sil.org> or
Travis Wilson <wilson.travisjames@gmail.com>